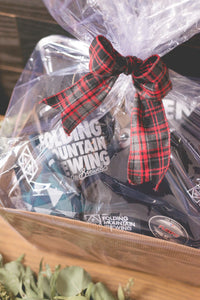 Gift Baskets
Folding Mountain Brewing
Regular price $94.00 Sale
FREE LOCAL DELIVERY IN THE TOWN OF HINTON OR PICKUP!!! 
*Please allow 24 hrs after order for delivery or pickup
"Oh boy, this is a surprise, Clark. It's just a real nice surprise. Just a real nice surprise." — Cousin Eddie

We have new curated baskets with all the FMB goods perfect for holiday gifts!
----------------
There are 4 baskets to choose from with pick up at the FMB Taproom or free delivery in the Town of Hinton.
🎄 🎄 🎄 🎄 🎄 🎄
1. Cotton Headed Ninny Muggins $125 + tax:
Weekends. Mountains. & Beer Sweater
Four (4) Cans of FMB
FMB Branded Toque
16 oz FMB glass
-------------------------------------
2. Cousin Eddie $90 + tax:
FMB Cap
Weekends. Mountains. & Beer. Tee
FMB Socks
FMB 64 oz growler with free fill coupon
FMB Patch
-------------------------------------
3. Holly & Jolly $65 + tax:
FMB 64 oz growler with free fill coupon
Two (2) 
FMB 16 oz glasses
Alpine Cranberry soap
Hand lotion
-------------------------------------
4. Joe to the World $80 + tax
Birdy Coffee Co. Coffee
Enamelware Mug
Two (2) 
cans of Parkway Porter
FMB Socks
Parkway Porter soap
🎄 🎄 🎄 🎄 🎄 🎄